In 2017, Dominica was ravaged by Hurricane Maria, a category 5 storm. Torrential downpours and 160mph gusts of wind ripped off roofs, smashed walls, snapped trees and destroyed roads. Hurricanes Maria and Irma devastated the Caribbean so extensively that their names have since been retired.
Dominican's Housing Minister, Reginald Austrie reported that 90 percent of all homes were damaged by Hurricane Maria.
Roseau, Dominica - Piles of mangled automobiles and other debris lie in the wake of the destruction caused by Hurricane Maria.
Canefield, Dominica - 160mph wind gusts snapped trees like toothpicks.
Saint Joseph, Dominica - Efrade Christopher stored whatever he could salvage under the cement foundation of what used to be his home.
Castle Bruce, Dominica - Angelica Gasper hid from Hurricane Maria in a small, 3X5 ft patio of her house. There, she prayed, "God help me!" for 4 hours while her home shook on it's stilts.
Castle Bruce, Dominica - When Angelica Gasper walked out from her hiding place, she found that her home was in shambles.
St. Joseph, Dominica - Victoria Pacquette and her husband Schelfault were in their home during the hurricane, and had to run into the basement to escape.
St. John's, Antigua - Prince Charles of Wales arrives on November 18th, 2017 in the Caribbean to asses the damage from Hurricanes Maria and Irma.
"It was painful beyond words to see the devastation that was so cruelly wrought across the Caribbean by Hurricanes Irma and Maria in those few, terrible weeks in September." - Prince Charles
Codrington, Barbuda - Prince Charles and leaders from Antigua and Barbuda discuss relief for the island, where only about 100 of the island's 1,700 residents remain.
Roseau, Dominica - Military personnel unload water purification systems for the island.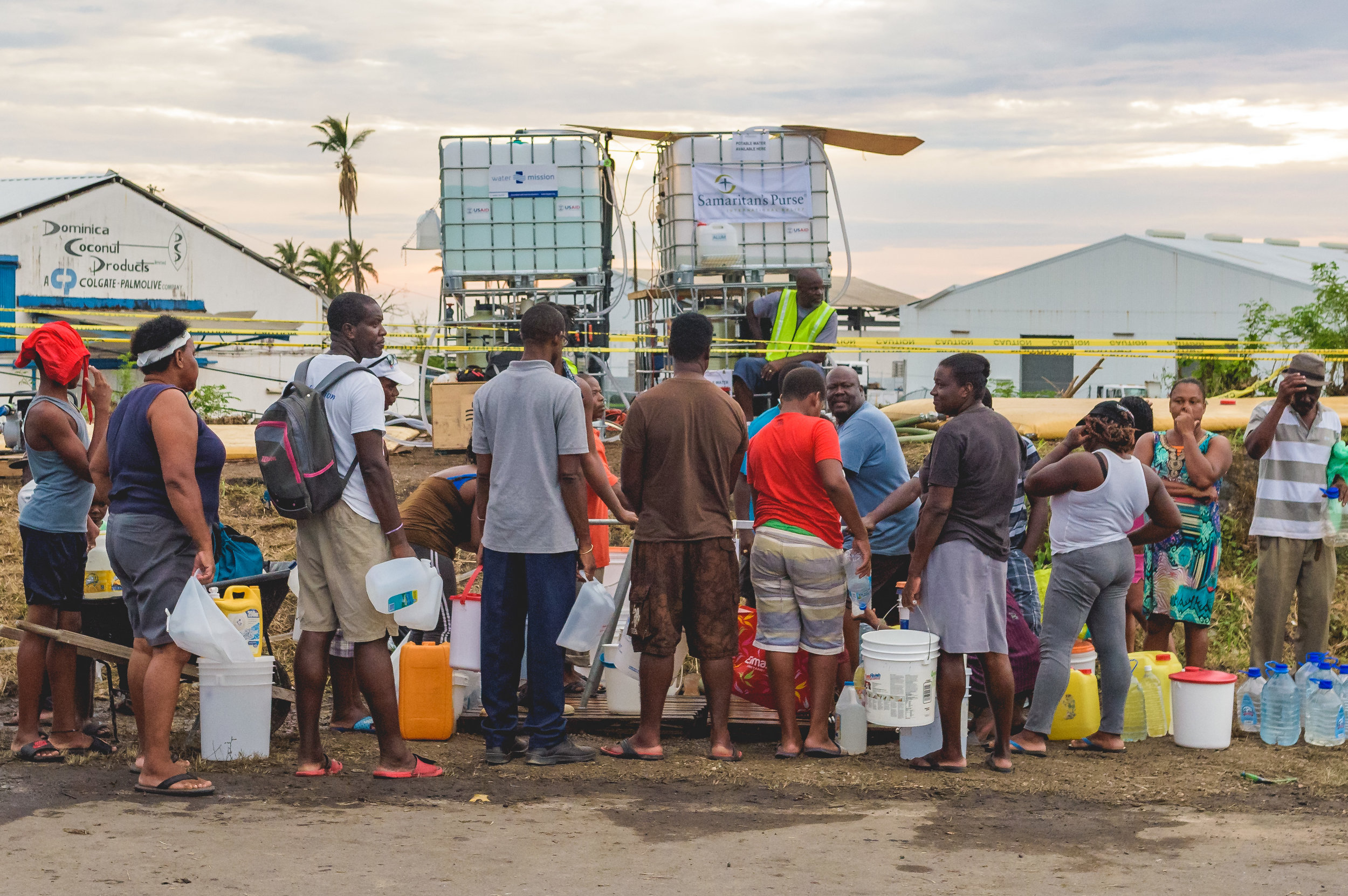 Roseau, Dominica - Residents line up at a water distribution station with anything that will carry water.
Roseau, Dominica - A Dominican man drinks fresh water, while another fills his bottle at a water distribution station. The whole island was left without power and water for weeks.
Roseau, Dominica - Crews hastily unload tarpaulin, generators and other relief supplies from a DC3.
Codrington, Barbuda - A command base is constructed to build temporary housing and distribute tarpaulin for the island's residents.
Barrio Obrero, Puerto Rico - Juana Reyez (right) and her niece Wilmarie, were in Juana's home when the hurricane hit. The roof collapsed on top of Juana during the storm, but she was uninjured. She was especially grateful for the relief supplies since she had no money, food, power or water.
Codrington, Barbuda - A bird's eye view captures evidence of the relief efforts far and wide.